How Carpet Is Made (part 1)
The carpet that is made today is a mix of old world craftsmanship and a touch of 21st century innovation. By combining the two, carpet is able to become the household feature that we all know and love – and get tired of cleaning.
Carpet can be manufactured in one of two ways;  weaving or tufting.  Carpets that are woven are primarily wool and are very durable, and very  expensive as well.  The woven carpet types can be hand produced, as it has been for centuries, or by machine.  No matter what method is chosen, the same procedures are followed.
The yarn for the carpet is woven through or around vertical fibers known as warps, and then locked  into place with horizontal strands known as wefts. The woven carpets can utilize a variety of colors as well to create intricate patterns in the  highest quality of carpets.
95746
Roseville, Ca.
By: Rose
(916) 226-5466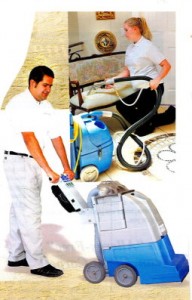 Filed under Blog, How Carpet Is Made (part 1) by Rose Born on Apr 1st, 2013.