How to remove carpet odors (part 2 0f 2)
Now, if you're dealing with a cat or dog stain, you'll want to sprinkle baking soda only on that area, but if you're dealing with a general problem, sprinkle it all over the carpet, making sure it's evened out. The longer you leave the baking soda on the floor, the better it will clean and freshen the carpet up in roseville, ca
You will probably want to leave it there overnight, but if you're treating a carpet that's not in an essential room, where you'll need to get by several times per day, you might want to leave it for two days straight, to get the carpet cleaned up thoroughly in roseville ca. 
When you're ready to start the clean-up process, first sweep over the carpet with a hard-edged broom to get most of the baking soda off. Afterwards, use a vacuum cleaner to pick up the remaining particles. Just make sure you don't vacuum before sweeping, or you might damage your vacuum cleaner, as it will suck up huge amounts of baking soda.
In case any soda got stuck on the fibers, you can use a scrub to take off these particles, freeing the carpet. If you didn't manage to get the carpet odor out with the above technique, try it again.
If you're still having problems, you're dealing with some nasty stuff over there. Still, there might be a practical solution: using baking soda, vinegar, dish soap and hydrogen peroxide.
Vinegar is acidic in nature, so it will burn the particles that were harder to remove.  Dish soap can give your carpet a fresh, clean smell, although alone, it won't clean the old odor up, it will just replace it temporarily.
 Our suggestion would be to combine these methods only if the double baking soda technique failed, otherwise you're just over nuking your floor and potentially damaging it.
Roseville, Ca.
95878
By: Rose
(916) 226-5466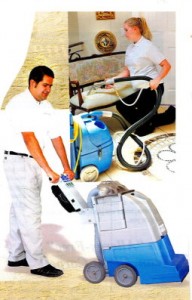 Filed under Blog by Rose Born on May 17th, 2013.